Not sure yet? Take a walk.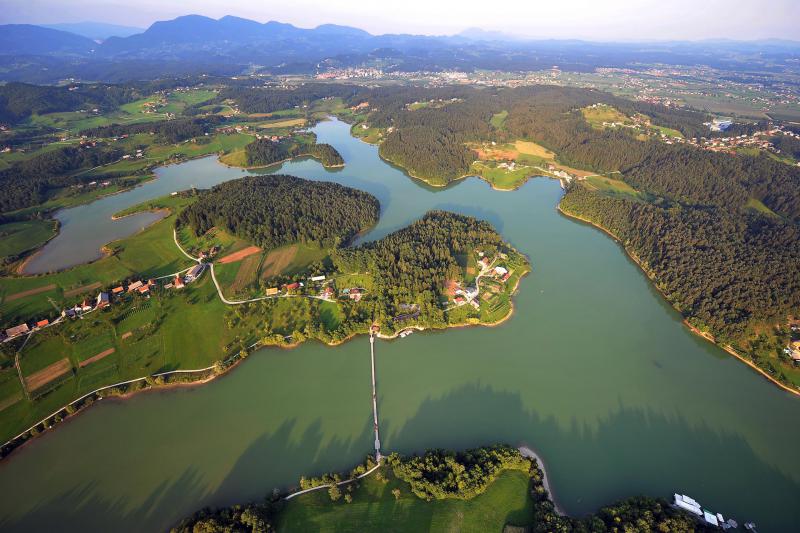 Šmartinsko lake
Šmartinsko lake s located in the immediate vicinity of Celje and is an attractive excursion destination with its rugged shoreline and interesting surroundings. It was created in 1970 and has a water surface of 113 ha. In addition to its original function as a high-water reservoir, over the years the lake and its surroundings have been transformed into a recreational, sporting and tourist area, which is growing in popularity year after year.
With its idyllic, unspoilt nature, varied offer and, above all, a safe and well-maintained path to the water, Šmartinsko lake attracts and delights visitors of all generations. Many walkers, recreational runners, cyclists and, of course, four-legged friends are on their way to the same destination every day – Šmartinsko lake. Boats, kayaks and pedal boats are available for rent, and Jezerska kraljica boat cruises the lake. The lake's abundant aquatic life makes it a paradise for sport fishing, and there is a temporary golf course and picnic area for rent nearby…
Rich catering offer
Enjoy a drink or a snack in the pleasant ambience of the lake and nature. Enjoy a delicious cup of coffee or a refreshing drink while listening to the birds singing and watching the magnificent lake.
Fishing
Šmartinsko Lake offers many beautiful spots where every angler will feel great. Find your spot by the lake or go fishing in a boat. Will you manage to catch the biggest fish?
Rest area for caravans
Find your space for your campervan at a designated stop. Šmartinsko jezero has a campervan stop where you can park, have a picnic and explore the surroundings of the lake. Take a walk and stretch your legs, or sit in the sun for a while.
Wakeboarding in wake park
Canoe, kayak or SUPing
E-bike rental
Running and walking on landscaped forest and themed trails
Rest on the bench
children's playground
Sign up for free notifications
Keep up to date with what's happening at Šmartinsko lake and take the opportunity to subscribe to our free email and SMS alerts:
Your personal data will be protected in accordance with the Personal Data Protection Act (ZVOP-1) and the General EU-GDPR Regulation.